Magnificent Banff National Park (Canada's oldest) is home to the Banff /Lake Louise/Sunshine Village ski area. The park is designated as a UNESCO World Heritage Site and it is no wonder that the area is consistently rated by major ski magazines as having some of best scenery in North America. The resorts are perched high in the Canadian Rockies and are surrounded by stunning peaks and a variety of wildlife. It's not unusual to find elk stretched out on someone's front yard.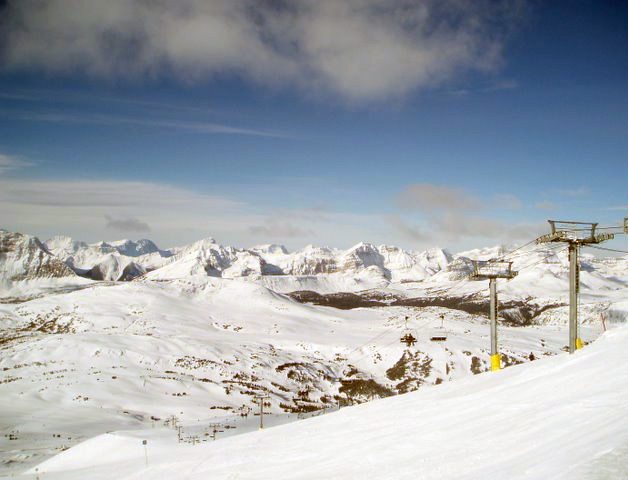 The three resorts' combined ski area provides over 240 runs on 7,500 skiable acres. Skiers use a convenient, interchangeable lift ticket and shuttle transportation to make the most of their visit. The area is known for its excellent dry powder and long ski season running from November to late May. Beginners find 23% of runs designated for them while intermediates have the run of 38% and experts are challenged on 39% of the slopes.

You can also ski Canada's newest resort the Kicking Horse or Panarama offering Canada's second highest vertical or the 1988 Olympic resort of Nakiska. All these resorts have regular bus service from the town of Banff and the village of Lake Louise.

Although Banff started out as a railroad town, year-round sports are now the focus in this spectacular area. Hikers and climbers flock to the park in the summer and in winter snow-related activities abound. In addition to skiing and snowboarding, the resorts offer cross-country skiing, tobogganing, ice skating, hockey, sleigh riding, dog sledding, snowshoeing, ice climbing and ice hiking. The Canadian Rockies offer some of the best ice hiking in the world. Steep climbs on frozen waterfalls challenge even the most skilled climbers.
Banff's cozy, rustic streets are lined with small shops and cafés. The town's many restaurants and pubs offer a variety of menus and themes. Shoppers find souvenirs that are traditional (and often handmade) to the Canadian Rockies as well as fashions, sportswear, and ski equipment, and even furniture.
In addition to shopping, non-skiers enjoy local sightseeing on roads winding through icefields and forests. To get a better feel of the area, visitors tour Banff's Whyte Museum to learn about the culture and history of the Canadian Rockies.