Ski Free ! Group Travel, Ski Club Trips &Vacations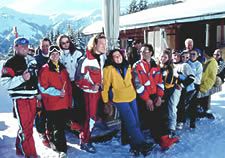 If you think skiing free is impossible, read on…
Every year lots of people like you enjoy a dream winter ski vacation or group trip without paying for it.
How?
They gather a group of their friends or colleagues, and their friend's friends, and head for the ski slopes. For organizing the group trip, they travel free!
It's easier than you think.
We can help. We've been arranging active group trips for 18 years; ski clubs, college allumni, corporate incentive trips and church group travel. We know all the ins-and-outs to help you succeed and we'll do most of the work. All you have to do is find the people and we'll help you do the rest.
Interested? Fill out the form below and let's talk.
Or click on the "Live Support" link on the top to speak to a destination specialist right now.
Request More Information
How many people do I need for a group?
Normally one person travels free for every 20 paying travelers. Discounts may be possible even for smaller groups.
Isn't Europe or Canada more expensive?
A trip to Europe or Canada can cost less than a trip to the United States when all of the factors are considered. At the bottom line, with lift tickets, transfers, food, taxes and tips factored in, skiers find that a one-week winter vacation in Europe or Canada can cost less than an equivalent trip to a resort in the United States.
Do we have to be great skiers to go to the Alps or Canada?
North American and European resorts offer skiing for all skill levels. In Europe, there are dizzying World Cup runs straight down the face of the mountain. But for each one of these runs, there are many more gentle, undemanding, ego-building runs on that same mountain. Some of our guests don't ski at all. Instead, they choose to enjoy European culture by sightseeing, shopping and dining out.
What if I'm still not sure about Europe?
If you still don't feel comfortable about a trip to Europe, let's talk anyway. Fill out the form and one of our representatives will call you about a North American winter vacation.